It will come as no surprise that The Learning Hub places great importance on a stimulating internal learning culture. We strive for growth and development, lifelong learning, both individually and at team level. Therefore, we came up with an internal challenge within the content creation team to explore new skills and technologies with a view to new projects with potential clients. At the same time, we ensure that the process is a valuable part of our internal onboarding. A win-win-win situation if you ask us. Within 'Welcome to Our World' we focus on various topics such as the use of 360° images, xAPI, 3D models, extensive branching, and gamification with a challenging graphic design.
The Concept behind 'Welcome to Our World'
With 'Welcome to Our World' we want to create a dynamic and immersive learning experience for our new colleagues, where each team member is responsible for a specific topic. This allows us to use our individual expertise and creativity to develop unique learning opportunities. Everything we learn individually is then shared with the team afterwards in a knowledge-sharing moment.
The Worlds of 'Welcome to Our World':
Our team currently consists of 5 members, so we are building 5 different worlds, each with its own theme and their (technical) challenges.
Curious about these worlds? Read on!
Ergonomia
Enter the world of Ergonomia, where we create a virtual workplace using interactive 360° images. Participants can click on specific items such as office chairs, screens, computer mice and more to unlock exercises and valuable information. We use a combination of photorealism and 3D visuals to create a lifelike learning experience.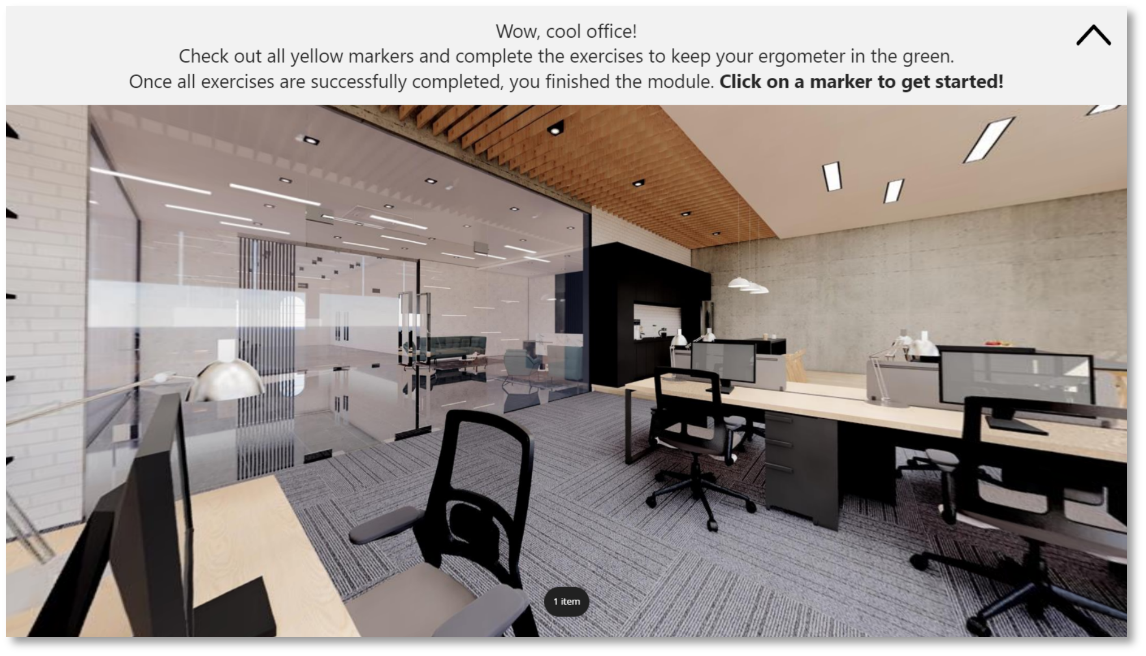 Privanama
Enter the world of Privanama, where privacy and data security are key. Here we use scrolling panels (both vertical and horizontal), 3D images and motion paths to create challenging scenarios. Participants can create their own avatar to see themselves reflected in the project.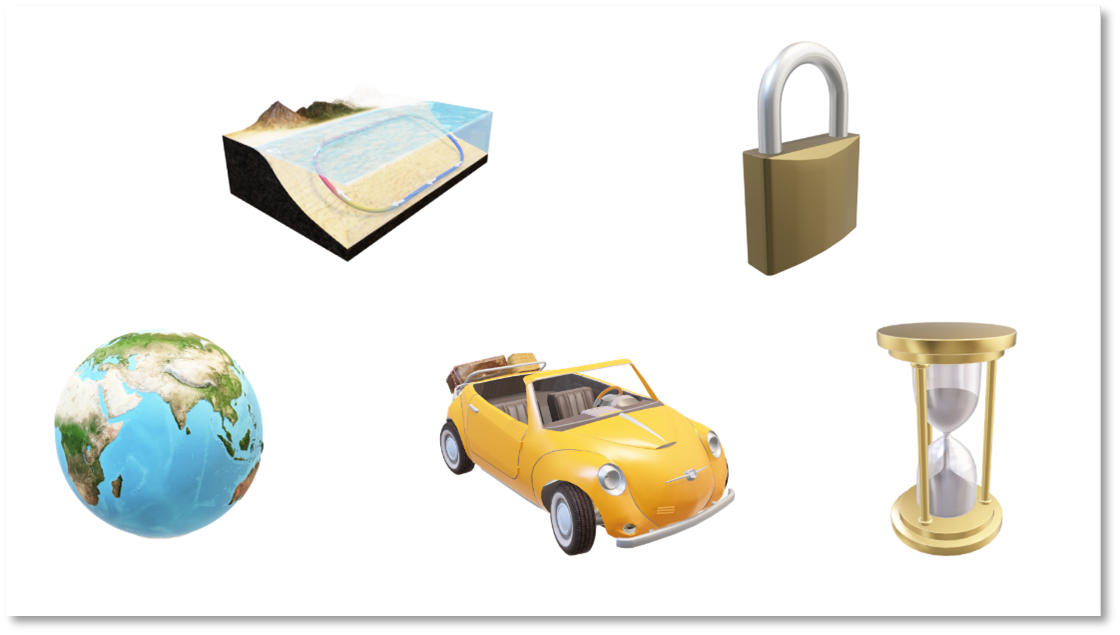 Research on possible 3D models
The United Balance
Discover the world of The United Balance, where work-life balance plays an important role. Here we use a complex branching scenario in which the choices made by the participants determine their further path. For this world, we got to know a new tool, Twine. This is a tool designed for interactive, non-linear storytelling and is often used in the creation of video games.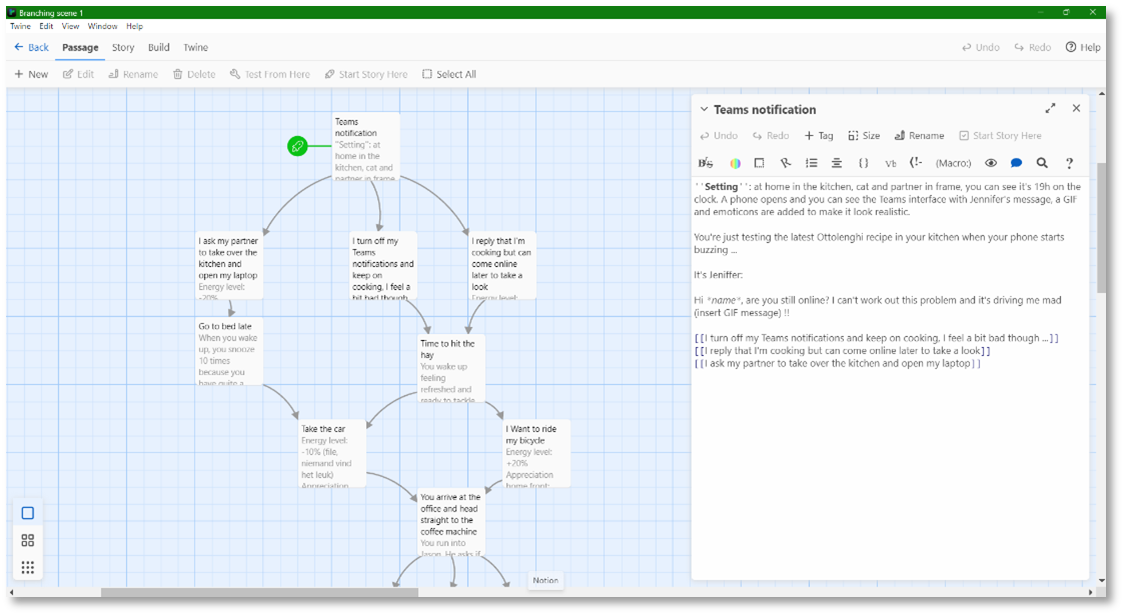 Twine software for branching
Costa Inclusia
In this part, we take the participants to an inclusive work culture. We use gamification elements to engage participants in activities that make them aware of diversity and inclusion in the workplace. The world is built like an adventure game where participants can move from left to right and face different challenges.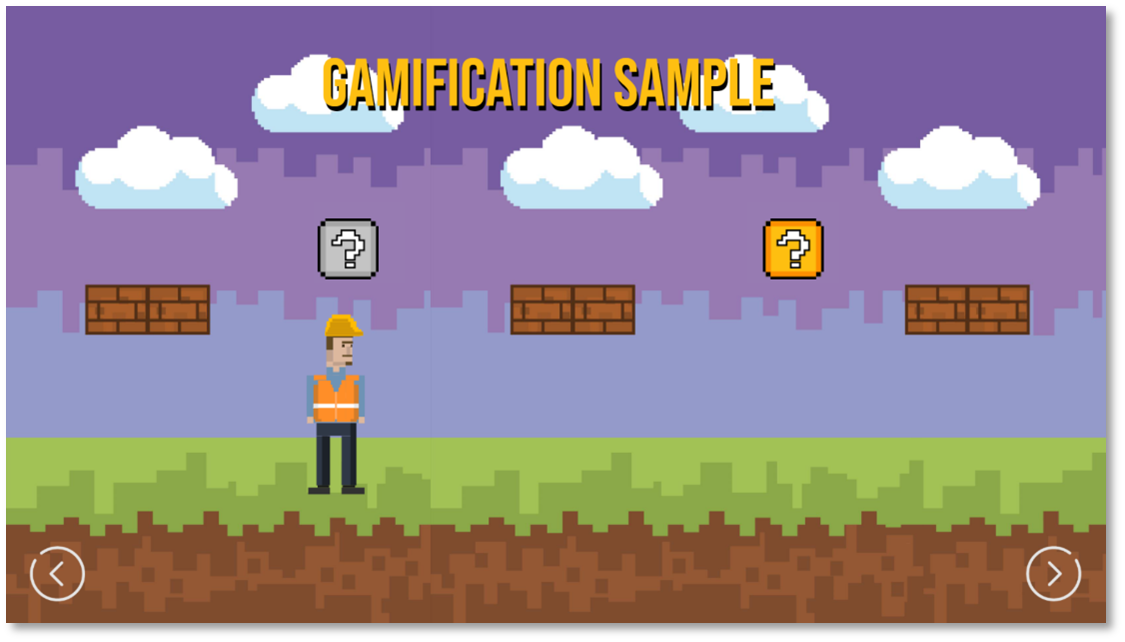 Images have not yet been drawn but carefully selected for internal use
The Ecological Republic
In this world, we explore sustainability and environmental awareness and focus technically on reporting. We want to use xAPI statements to get more information about end-user behaviour.
Apart from the technical challenges (keep them coming!), the planning is also a hurdle here and there. The ideal was to plan the project tightly, with clear deadlines, as we do for a client project. However, as time went on, we encountered a few obstacles. Well-earned holidays, maternity leave, illness, and priority projects for clients thrown a spanner in the works here and there. We know that flexibility and dealing with unforeseen circumstances are important, both in our own learning process and in processes with clients. Despite these obstacles, our team made great strides with dedication and determination. Our experience during this project has furthers motivated us to develop our expertise and innovative learning solutions.
'Welcome to Our World' has taught us and inspired us. It's been an amazing journey of discovery for our team, and we're proud of the learning experiences we're creating together. We are passionate about continuing to grow and share our knowledge, both internally and with our clients.
Are you interested in how The Learning Hub can support your organisation with innovative learning solutions and a stimulating learning culture? Then contact us today. Our team is ready to discuss your needs and design customised learning pathways to meet your organisaion's specific challenges. Together, we can pave the way for growth and development.
 We look forward to hearing from you and working together to create a learning experience that makes a difference!