Testimonial: content creation at SD Worx
SD Worx delivers a full range of quality services globally in the areas of Payroll, HR and Tax & Legal. More than 4.150 staff members are serving more than 65.000 clients. They offer salary calculations, training, HR research, social-legal, tax and HR-related consultancy services, specialist software for personnel departments and on-site support.
To support a total HR transformation in an ever-growing VUCA (Volatile, Uncertain, Complex and Ambiguous) world, the organisation wanted to launch several e-learning modules for their employees. Topics would be: continuous learning and feedback (progress management) and their new HRM tool, SuccessFactors.
Why did SD Worx call on The Learning Hub?
SD Worx wanted the launch of SuccessFactors to be accompanied by several e-learning modules. Partly to introduce the possibilities of the tool, specifically for Talent Management and Progress Management, but also to clarify the bigger picture: the SD Worx Ambition 2021, to become the most desired brand in payroll and HR in Europe and on Mauritius by 2021.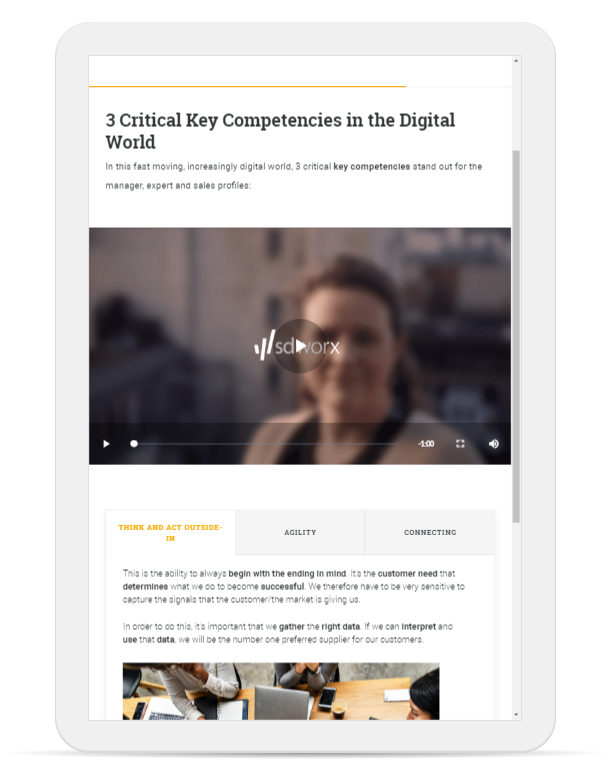 How did we do this?
The authoring tool that was chosen to create the – initially six – different modules was Articulate Rise, a web-based app that lets you create fully-responsive courses fast. One of the reasons why SD Worx chose this tool was the tight deadline, but it was also because they needed a tool that was not too complex, in order to be able to adapt modules themselves whenever necessary.
While Articulate Rise is quite limited with regard to design options, we started off by setting up a template based on the company branding of SD Worx, with the right colors, logo, picture style, and so on.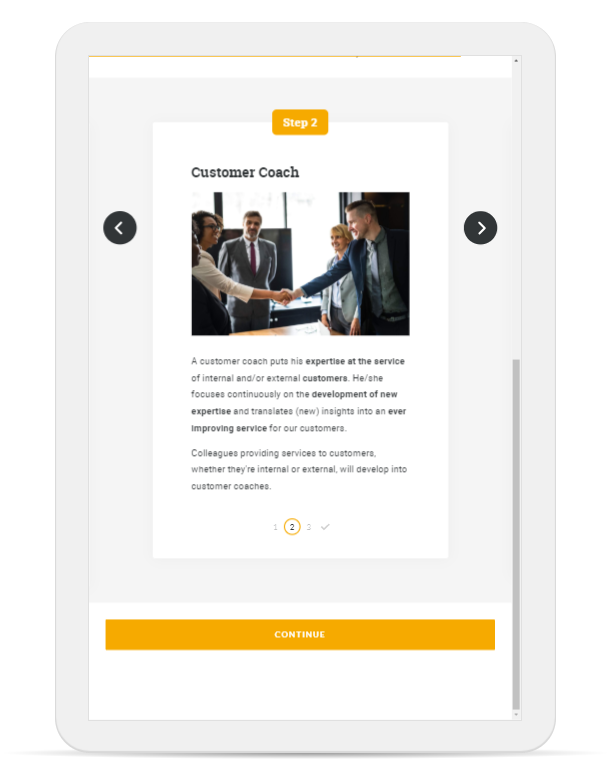 The target audience for these modules ranges from employees to managers, and the challenge would be to create engaging modules that would trigger every one of them to follow the different courses and make it an enjoyable experience.
That is why we focused on keeping each module as short as possible. Also, we integrated a lot of interactive elements: drag & drop exercises, quick quizzes with different types of questions, information carousels, videos, and much more. For the parts about the SuccessFactors tool, we worked with screenshots and scenarios that would be recognizable for the end-users.
One of the challenges was that the SuccessFactors tool would look different for managers than for employees. Therefore, we decided to split up these modules and make a separate employee and manager version, each with their own screenshots and content.
The result
The result is a collection of 9 modules in Dutch, English, French and German. They are visually attractive, engaging for the learners and recognizable, because the different profiles of the end-users were considered. On top of that, all modules can be consulted freely, so they can always be used as a reference document.
We had a good learning experience to create specific e-learning on our new process and tool. The Learning Hub's consultants helped us to create a new experience for our managers and employees.