Testimonial: Transition to adult care at UZ Leuven
UZ Leuven describes itself as 'a university hospital where patients can count on specialized care and innovative treatments, combined with humane attention and respect for every person. Every day, more than 10,000 passionate employees provide the best possible custom-made care.'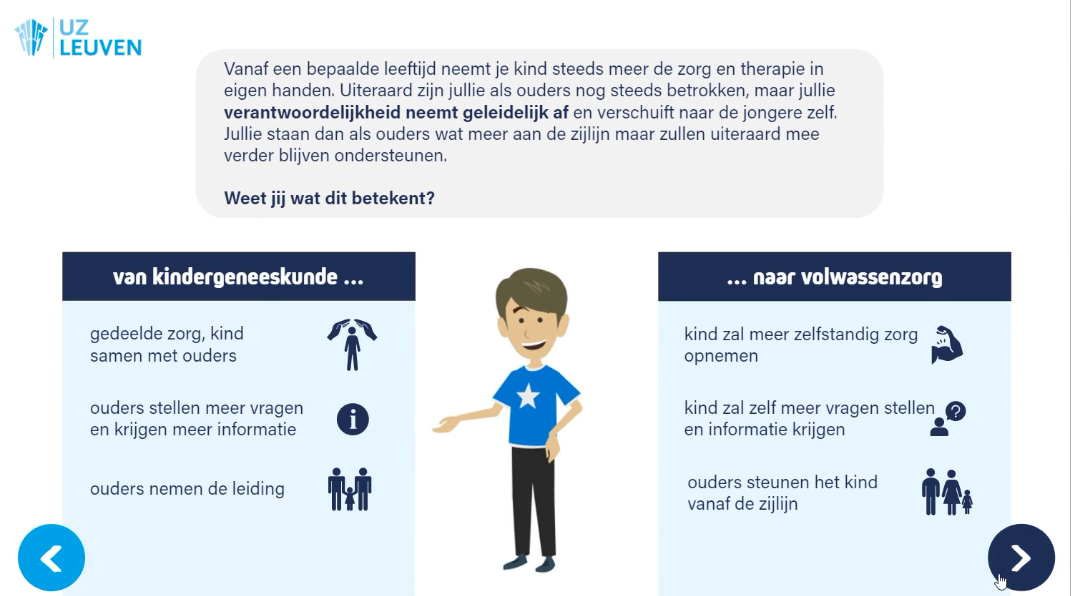 Why did UZ Leuven contact The Learning Hub?
When they say 'custom-made care', UZ Leuven does not only mean in terms of healthcare: they also want to guide their patients during their healthcare journey. That's why UZ Leuven called on The Learning Hub to support them with a particular case.
In the pediatrics department, there are a number of chronically ill, teenaged patients, who will at a certain age make the transition from the pediatrics department to the 'regular' adult departments related to their respective illnesses. This transition is often quite a big step for these youngsters: they need to become more independent, take more control over their treatment, be willing to (and able to) ask their own questions during follow-up …
UZ Leuven wanted to guide and support these young patients in their transition away from pediatrics. They were looking for a digital way to inform and encourage these youngsters to become more independent. The goal was therefore not really to induce knowledge, but mainly to create awareness about the transition and to get these patients' thought process going. That's why together, we started creating an interactive digital module which everyone would be able to consult at their own pace, at the right time in their own personal journey.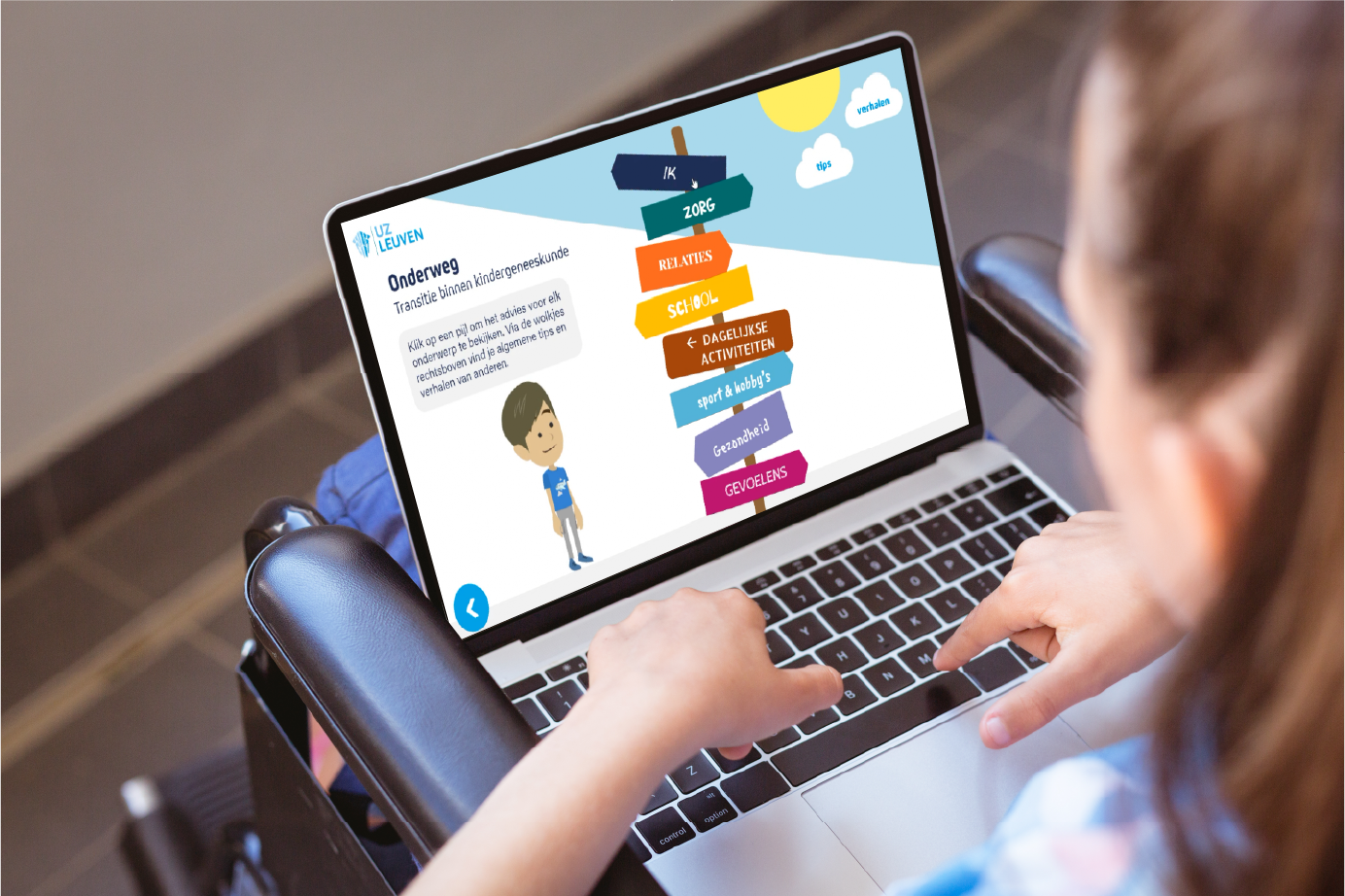 Depending on their situation, this transition starts when patients are between 12 and 18 years old. Of course, that is a very diverse age group – so definitely something we needed to take into account: a 12-year-old and an 18-year-old require a different approach and do not necessarily need guidance with the same thematic (e.g. studies, driving license, sexuality …).
Another important requirement, but more on the technical side of the project, was the fact that the digital solution needed to be easily consulted on any device – laptop, tablet and smartphone. People will likely consult the module on their mobile in the waiting room or at home, so the design and flow of the module needed to be suited to small screens.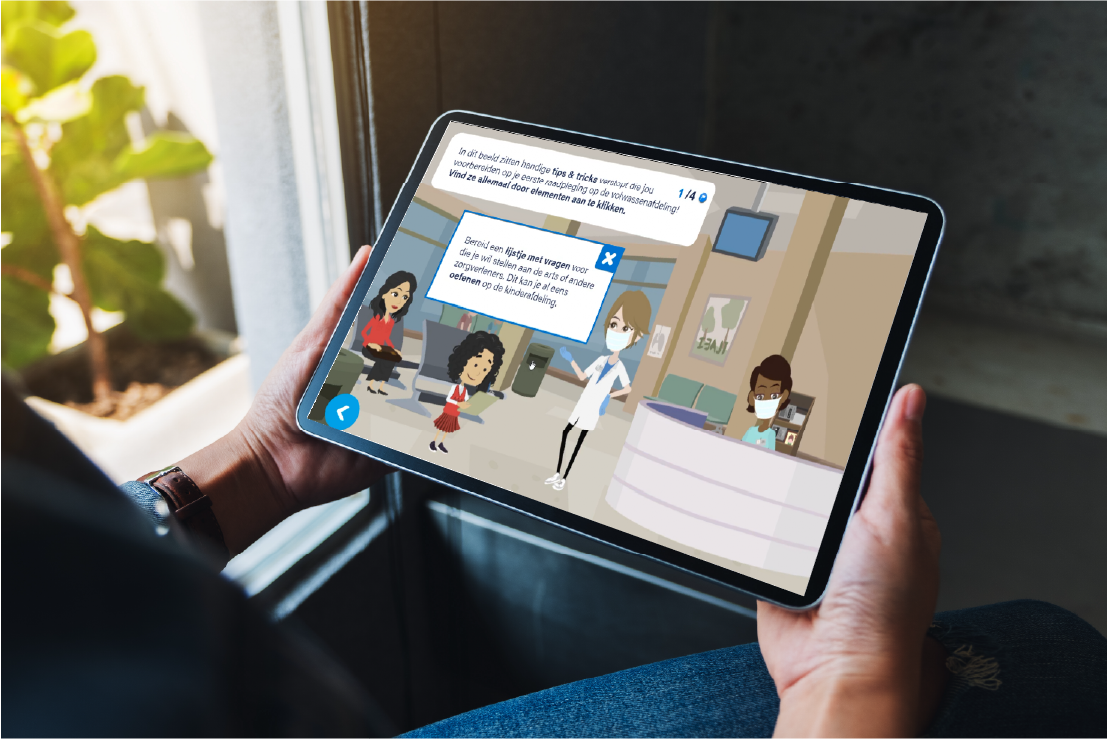 How did we do this?
UZ Leuven already had a clear vision on the messages they wanted to give their patients, which topics needed to be tackled, and which questions they wanted the patients to think about. This gave The Learning Hub a solid base to start from. After analysis, the team decided to develop 4 different but very closely linked modules: one for ages 12-13, one for ages 14-16, one for ages 17-18 and one for the parents of these chronically ill patients (since they also need to go through a transition, in their own way). The Learning Hub then turned the content into short, fun, visually attractive modules containing a multitude of media types and approaches – to spark the attention of the youngsters and keep it throughout the module.
A few examples:
An animated video, creating awareness the transition in just 1 minute
A main character (more or less adapted to the age group) guiding the audience through the module
Reflection questions in different forms, e.g.

using emojis to indicate how the patients feel about certain situations
drag and drop interactions ("drag the lightbulbs to each person to reveal a topic")
hotspot interactions ("find the 4 tips & tricks hidden in this image")

Video testimonials from fellow patients and parents who have recently made the transition
…
Results
As a result of the project, UZ Leuven has at their disposal 4 modules revolving around the same goal, with similar content, but adapted to different profiles, each taking +/- 25 minutes to complete. The modules will be made available for free via a link on the UZ Leuven website and recommended to each patient in the pediatrics department who is transitioning (and their parents).